Buying a house with cash can mean saving thousands of dollars on mortgage loan interest payments, and taking possession of a home sooner than average, without the risk of delays due to a loan offer falling through. Many homeowners are also eager to sell their house quickly and will lower their asking price for cash buyers, so they can close faster and walk away from the property with that cash in hand as fast as possible!
The process for buying a house with cash typically involves:
     

Getting your cash available

     

Getting proof of funds from your bank

     

Finding a home and obtaining an inspection, land survey, and appraisal

     

Performing a title search

     

Negotiating with the owner

     

Securing earnest money

     

Closing
Depending on the property, these steps might not occur in this exact order; for example, you might negotiate with the owner first and ensure you can come to an agreement on the home's sale price before performing a title search. Some owners might also insist on securing an earnest money deposit before negotiating with a cash buyer.
If you're thinking of buying or even selling a home for cash, you might note some added details about these steps. This will ensure you understand what to expect, and why cash buying and selling can be the right choice for you whether you're a buyer or a seller!
The Process for Buying a House With Cash
Consider some added details about the process for buying a house with cash and then discuss the process with a real estate lawyer or agent near you as needed, to ensure a smooth and hassle-free process for you!
Get cash available
Even if you have tens of thousands of dollars in the bank, don't assume it's enough to buy a house with that cash! Instead, draw up a list of expenses you will face in addition to a home's sale price, including:
A

ppraisals or surveys of a home for sale

T

itle searches and title insurance

L

awyers or real estate agents, if needed

P

roperty taxes you'll pay once you own the home

U

tility reconnection
Homeowners with properties not up to local building codes or that need costly repairs often sell for cash only, as buyers cannot secure a mortgage for a home in disrepair. In turn, you might also set aside a portion of your funds for repairs and updates to a home once it's purchased.
Obtain proof of funds
Most cash home sellers will want to know that a buyer has the money available to purchase their home. Having proof of funds available before you even begin shopping for a home helps ensure a smooth buying and selling process; you can obtain this statement from your bank as needed.
Choosing a home
When choosing a home to buy for cash, remember that sellers might be looking for cash buyers because their home needs major renovation or repair, as said. While you might be interested in a certain area, size of home, and other such features, ensure you have the funds and time available to schedule needed inspections before deciding to make an offer. These inspections might include:
A standard building inspection, checking its electrical, plumbing, roof, and foundation.

An inspection for mold, radon, and pest infestation.

Depending on the home's age, you might also have it inspected for asbestos.

A land survey, to ensure you know the lot's proper boundaries.

An appraisal by a real estate appraiser familiar with comparable properties in the area.
A buyer might also make a note of various updates and fixes you'll need to make before occupying the home, reselling it, or using it as an income property. This might include kitchen and bathroom updates, new carpeting, new paint, new appliances, and thorough power washing. Take into account the condition of the home overall as well as needed updates and repairs before deciding that a property is right for you!
Title searches and title insurance
A title search tells you everyone's name on the property's title and alerts you to any liens on that property; those liens will usually need to be met before the home can be sold. Title insurance protects you against issues with the title or deed, such as another party claiming ownership of the property.
Negotiating
Even when selling a home needing repairs and wanting to close a sale as fast as possible, homeowners still want as much money as they can get for that house! Many cash buyers avoid negotiating with homeowners as this can slow down the sales process, but this doesn't mean you shouldn't expect a property owner to haggle, hoping to get a higher offer. Before shopping for a property, consider if you are willing to negotiate; even if not, it's still wise to expect a counteroffer or two from the homeowner during this process.
Securing earnest money
Securing earnest money refers to putting a small amount of money into an escrow account or to be held by an outside agent, showing the seller your willingness to purchase their home. This money does not go to the seller, as you want to ensure you get that money back if the seller should withdraw from the sale or it falls through for any reason. A real estate agent or lawyer can advise on how to handle earnest money and protect it throughout the buying process.
Closing
Closing is the official appointment to transfer ownership of the home. The buyer and seller should agree beforehand on how to transfer funds for the sale, whether that's a cashier's check, wire transfer, or something else. It's helpful to have a notary public on hand, as he or she can verify everyone's identification and signatures.
Other steps when buying a house with cash
As long as a sale is conducted legally, the steps you take when buying a house with cash are between you and the seller. However, you might also consider a few added details, such as getting homeowner's insurance before taking possession and performing a final walk-through before closing.
Buyers especially should consider hiring an agent or legal representative throughout this process, to ensure you haven't overlooked anything and that you have all the paperwork needed to take possession of the property legally. Investing in such an agent can mean avoiding many expensive legal entanglements and headaches long after the sale is concluded!
How Long Does It Take to Buy a House If Paying Cash?
The most common reason for home sales to become long, drawn-out processes is a mortgage lender wanting to schedule various inspections or to ask for added paperwork from the buyer before signing off on that loan. A home not passing inspection or a buyer discovering needed repairs, negotiations between the buyer and seller, or issues with the home's title can also delay the process for weeks if not even months.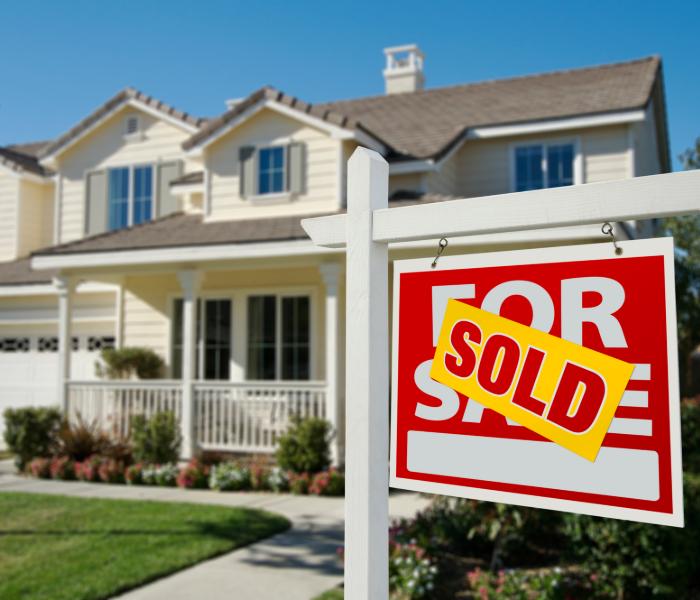 Since cash buyers don't need a mortgage, there is no risk of their loan falling through and no delays caused by the lender. Cash buyers should also be prepared to conduct their own inspections. If the buyer and seller don't need to negotiate the price and there are no issues with the property's title, most cash sales can close in as little as a week or two.
Is It Smart to Buy a House With Cash?
There is no "right or wrong" way to buy a house or particular method that is the best for everyone. To choose the right home buying process for you, simply consider the pros and cons of a mortgage versus cash buying.
For example, a mortgage loan allows you to own a home and pay for it in small increments over time, while cash buying means putting quite a sizable dent in your savings! Since you still face expenses even after buying a home, including property taxes, utilities, and repairs, you want to ensure you still have funds available after a home purchase.
However, obtaining a mortgage loan also means paying back thousands, if not tens of thousands of dollars, in interest payments. When you pay cash for a house, you are only paying for the home and related closing expenses, rather than paying down an expensive loan. Cash buying then lets you build equity in the property from the day of purchase, and not wasting money on interest payments over time.
Also, note that cash buying means not having to stay in a home simply because you're "upside-down" on your mortgage, or owe more on the mortgage than the home's worth. As a cash buyer, you are typically freer to resell that home when needed, use it as an income property, or otherwise liquidate it without having to worry about the balance on a mortgage loan or have the home foreclosed on by a lender because of defaulting on that loan.
Since paying cash for a house also means not having to "jump through hoops" with a lender, you also don't need to worry about losing that potential purchase because of being turned down for a loan. You can then close more quickly, with less risk and hassle, when you buy a house with cash.
Buying a House with Cash & Getting a Mortgage Later
Obtaining a mortgage after buying a house with cash is called delayed financing. This option can give you the benefits of a cash sale, including no delays while waiting for a lender to approve your loan. Cash buying also allows you to purchase homes needing repairs or not up to code.
Obtaining a mortgage after a cash purchase typically includes the same requirements, however; this includes proof of income, an acceptable credit history, and the like. A lender will also typically have the same requirements when it comes to the property, as the house will then work as collateral for that loan; in turn, you might need to make certain repairs to bring the house up to code before you can obtain a mortgage.
If you're thinking of applying for a mortgage after a cash purchase, be sure you talk to a real estate agent or attorney and your lender, so you know everything required throughout the process as well as the pros and cons of delayed financing. This will ensure you make the best decision for your property before and after the purchase.
Buying a House Outright
Buying a house outright doesn't mean you won't face any homeowner expenses, some of which begin as soon as you take possession of that property! These expenses include utility costs, HOA fees if any, and property taxes.
A home might also need immediate repairs; some damage might even make the house unsafe for occupation. Immediate repairs might include mold and asbestos removal, treatment for insect infestation, repairs to interior and exterior stairs, appliance repair or replacement, roof repairs, plumbing leak repair, replacing broken windows and entryway doors, and flooring fixes.
While new homeowners might put off some immediate repairs to a home they intend to occupy, remember that local laws might dictate that rental properties be up to code. Even seemingly small fixes, such as missing rails along stairways, might interfere with your ability to rent out a property, so ensure you're prepared to address needed repairs if you plan on renting or reselling a home you purchased for cash.
Homebuyers should also remember that other buyers are typically interested in "turnkey" homes, meaning houses they can purchase and just turn the key, or occupy immediately without having to schedule repairs. Renters will also want a home that is updated and in good condition. In turn, a homebuyer should be prepared to invest in some updates for a house they want to flip or rent to others; this can include new cabinetry and carpeting, fresh paint, and a complete interior and exterior cleaning!
Tampa Cash Home Sales is proud to offer this information to our readers about buying a house with cash, and hopefully, you found it helpful. If you're considering a cash home sale, rely on our experienced Tampa cash home buying contractors. We offer FREE consultations and expert evaluations and ensure fast closings and maximum cash offers. For more information, give us a call today!